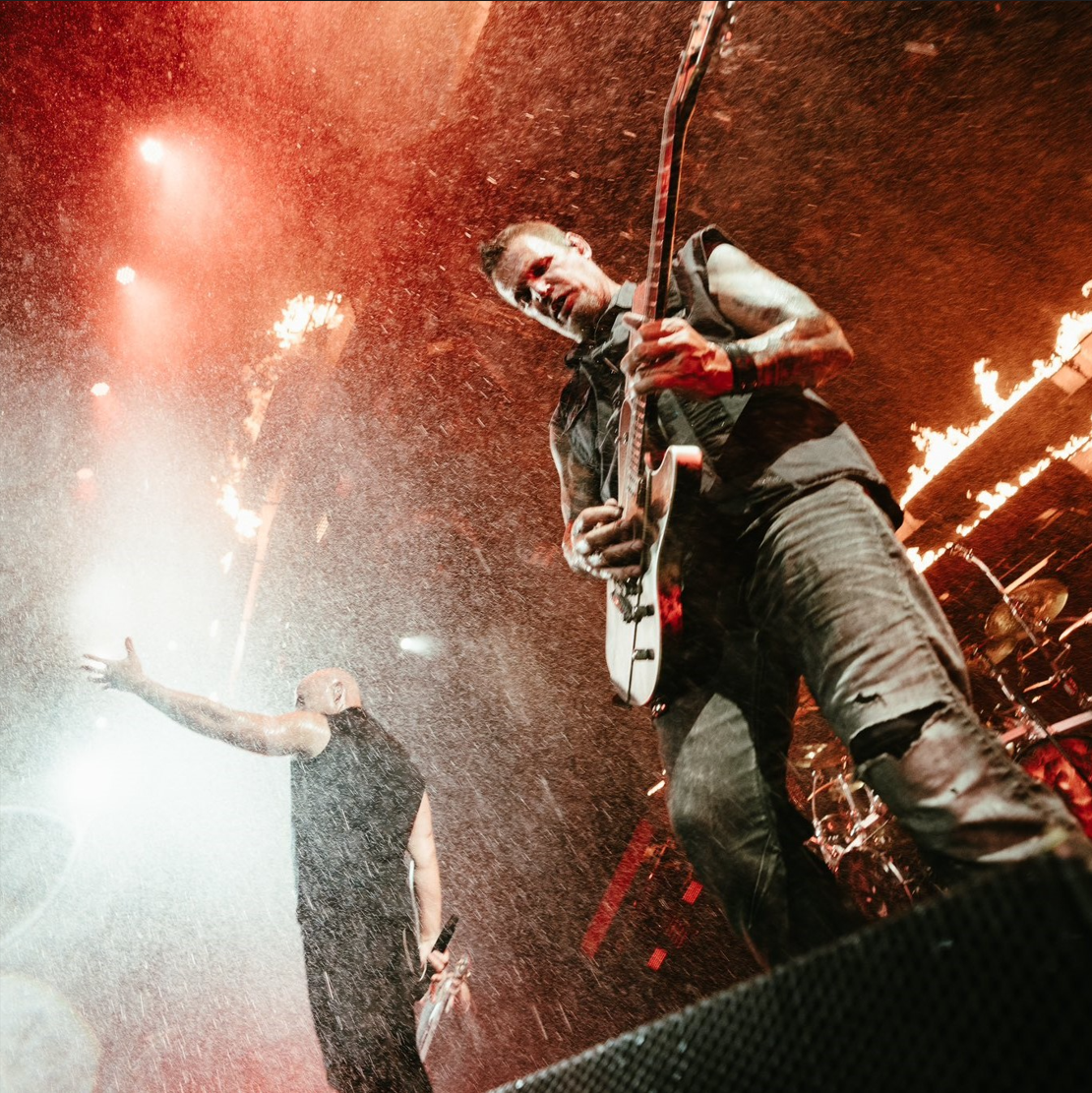 The Legend of Disturbed
Gather 'round rockers! We've got a story that'll make you chuckle. It's about one of our favorite metal bands, Disturbed, and how their pyrotechnics got them into a bit of a "slippery" situation during their Take Back Your Life tour. And guess who was behind the metal madness? Yep, none other than Western States Fire Protection, the official fire sprinkler company of Disturbed! Ok… we might not be officially the fire sprinkler of Disturbed, but hey, we can dream, right?
So, picture this: Disturbed, an unstoppable force of metal, was performing their heart out at the Cynthia Woods Mitchell Pavilion just outside of Houston, TX. The crowd was electrified as they unleashed their pyro-filled set closer, "Inside the Fire." Flames were shooting high, adding to the intensity and awesomeness of the show. But wait, things got a bit too hot to handle. Suddenly, the fire sprinklers were triggered, and it began to "rain" onstage. Yep, you read that right—the band's fiery performance turned into an impromptu water show!
In the aftermath, David Draiman, frontman extraordinaire, took to Twitter and explained the whole ordeal with a good ol' "lol" and mentioned how they got a "surprise rain shower" during the show. Lead guitarist, Dan Donegan, couldn't help but be amazed, calling it a "first" in their career and one of the most memorable shows ever. Despite the unexpected rain, Disturbed kept rocking, completely unbothered, and the crowd loved every single minute of it.
You might wonder how Western States Fire Protection, a company that deals with fire sprinklers, got involved in this epic tale. Well, let's just say our fire sprinklers were ready for anything, even a heavy metal firestorm! They performed their duty flawlessly, even if unintentionally.
Disturbed's pyrotechnics-laden stage shows are legendary, and they've always pushed the boundaries to create an unforgettable experience for their fans. As David Draiman once said, "We blow it up pretty good, that's for sure. We go through a lot of accelerant up there. It gets hot. But we love it. We live for it." And boy, do their fans live for it too!
The Rockin' Never Stops!
Disturbed's "Take Back Your Life" tour has been nothing short of epic, and this little "rain shower" incident just added another chapter to their epic rock 'n' roll journey. Let's take a moment to appreciate how Disturbed handled the water show with absolute grace and humor. After the rain-soaked performance, David Draiman introduced each band member, and then he couldn't resist adding a cheeky remark, "Make some noise for the freaking sprinkler system!"
That's the spirit, David! Make some noise for the freaking (WSFP) fire sprinkler!
In the end, Disturbed's fiery pyrotechnics met their match with Western States Fire Protection's trusty fire sprinklers. It was a moment that will go down in concert history as one of the most unforgettable and amusing incidents. And to all the rock bands out there, if you need fire sprinklers that can handle anything, look no further than Western States Fire Protection. We've got you covered (and your audience too)!