24-Hour Availability for Fire Sprinkler Repair Services
Reliable Fire Protection Service and Repair for Alarm & Detection, Sprinkler, and Suppression Systems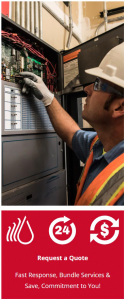 Ensuring the functionality of your fire sprinkler systems is crucial for the safety of your property. According to NFPA 25, routine inspections, testing, maintenance, and assessment are essential. As a property owner, it is your responsibility to meet these requirements. While some inspection activities can be performed by property owners, technical inspections, tests, and maintenance should be entrusted to qualified contractors.
Routine Inspections and Service
Regular fire protection service and inspections are vital to guarantee the proper functioning of your system when it matters most. Whether you need inspection, testing, maintenance, or assessment services, our dedicated team is ready to assist you. We will discuss your needs, schedule an on-site visit if necessary, and provide a comprehensive quote within 24 hours.
Our expert technicians, equipped with the necessary expertise and tools, excel in both the installation and repair of fire protection systems. With their extensive knowledge of system construction, they possess unparalleled expertise in system maintenance and repairs. We offer flexible maintenance schedules and can incorporate maintenance and repair tasks during inspections. For commercial and industrial clients with higher system demands, we can even provide a full-time technician. Trust our fire protection services to keep your systems operational and reliable.
Professional Service, Immediate Repairs., and 24-Hour Emergency Response Team
Western States Fire Protection is your go-to provider for fire alarm, sprinkler, and suppression system service and repair. We cater to industrial, commercial, and residential fire protection systems. Our reliable fire sprinkler repair and fire protection services ensure that your systems are always ready to respond in emergencies. Serving customers across the western half of the United States, from Washington to Kentucky and even the southernmost tip of Texas, our extensive office network guarantees timely assistance. Whether your systems were installed by Western States or a competitor, we have the expertise to service and repair them all.
In the event of unexpected system breakdowns, simply give us a call, and our emergency response team will swiftly arrive at your location. Available 24/7, 365 days a year, our team will promptly repair your system, ensuring your building remains adequately protected.
Comprehensive Service for Fire Sprinklers, Suppression, Alarms & Systems
Our team is experienced in servicing various types of fire protection systems, including:
Schedule a Repair with WSFP
Don't leave your fire protection systems to chance. Take action now by scheduling a repair or inspection with WSFP, and our highly skilled technicians will swiftly respond to your location. With over 40 office locations across the Western Half of the United States, our extensive network ensures comprehensive coverage and efficient service. Maximize cost savings by bundling all your fire and life safety system inspections with WSFP, making us your trusted full-service fire protection contractor. Safeguard your property and occupants—schedule your repair or inspection today and experience the peace of mind that comes with reliable fire protection.