Our Service and Repair Team is Available 24 Hours a Day
FIRE PROTECTION SERVICE AND REPAIR TO KEEP YOUR ALARM & DETECTION, SPRINKLER, AND SUPPRESSION SYSTEMS IN OPERATING CONDITION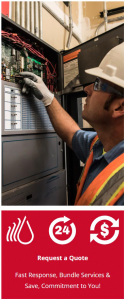 NFPA 25 provides the minimum requirements for routine inspection, testing, maintenance, and assessment of sprinkler systems and the frequency of those inspections, tests, and assessments. It places that responsibility on the property owner. Some of the inspection activities such as draining low point drains on dry systems, weekly/monthly inspection of gauges and control valves, can be performed by property owners but the more technical inspections, tests, and maintenance should be performed by a qualified contractor.
ROUTINE INSPECTIONS & SERVICE
Routine fire protection service is essential for you to be confident that your system will function when it is needed. Should you desire inspection, testing, maintenance or assessment services, a dedicated team member will be happy to discuss your needs, schedule a site visit if needed and respond to your request for quote within 24 hours.
Our full-service, fully equipped technicians are experts in the installation of fire protection systems. Because they know how these systems are built, they know better than anyone how to repair and maintain them. We can schedule maintenance at regular intervals or work maintenance and repair into your inspection services. For our commercial and industrial customers, we can provide a full-time technician if your facilities are systems demands are higher. Our fire protection services will help keep your systems up and running.
PROFESSIONAL SERVICE. IMMEDIATE REPAIR. 24 HOUR EMERGENCY RESPONSE TEAM.
Western States Fire Protection can service and repair any fire alarm, sprinkler and suppression system. We service industrial, commercial and residential fire protection systems. Our fire sprinkler repair and fire protection services will keep you up and running and make sure your systems are ready to go in case of an emergency. We service customers in the Western half of the United States with office locations between the state of Washington to Illinois and most southern tip of Texas. We can service and repair all installed systems whether installed by Western States or a competitor.
If your fire protection systems break down unexpectedly, give us a call and we will dispatch our emergency response team to your location as quickly as possible. Our team is available 24 hours a day, 365 days a year. We will repair your system and get it up and running so your building has the protection that it needs.
SERVICE FOR FIRE SPRINKLERS, SUPPRESSION, ALARM, & SYSTEMS
Our team can service all types of fire protection systems including:
SCHEDULE A REPAIR WITH WSFP
Let's get started today. Schedule a repair or inspection and we will get a technician out to your location. With over 40 locations across the Western Half of the United States, our team has you covered. For a cost savings, bundle all your fire and life safety systems inspections with WSFP. We want to be your full-service fire protection contractor.