A Proven Track Record of Installing Fire Sprinkler Systems with Skill and Quality at Cost-Effective Prices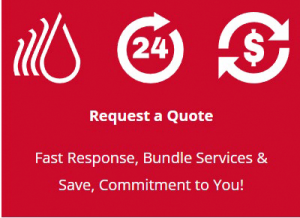 LEADERS IN THE FIRE PROTECTION INDUSTRY IN DESIGN, INSTALLATION, SERVICE, AND INSPECTION
The people behind your fire sprinkler system have one mission: protecting lives and property from fire. We offer you a creative, common-sense approach to fire sprinkler design, installation, service, and inspection. With over 30 years of experience and over 40 locations in the United States, we have the team and expertise to provide you with a sprinkler system that meets your fire protection needs.
TYPES OF FIRE SPRINKLER SYSTEMS WE INSTALL:
A sprinkler system is designed to use water to put out a fire. Between a fire suppression system and a traditional sprinkler system we have your residential, commercial building or industrial space covered. There are four different types that we can install:
Wet pipe systems: typical application, with water in the system's pipes ready to be activated by the opening of fire sprinkler heads due to heat.
Dry pipe systems: this system has air or nitrogen gas in the pipes and water is released into the pipes upon activation of the sprinkler heads after a slight delay. These systems are used in areas where water in pipes can freeze.
Deluge: activated by smoke or heat detectors, deluge equipment releases a dousing flood of water or form in an instant through an open-sprinkler, nozzle, or foam generator, utilizing an unpressurized piping system. These systems are used in areas other than homes and offices where fire can spread quickly.
Pre-Action: This is a combination of wet and dry pipe fire sprinkler systems and are not activated until a fire is detected.
Western States Fire Protection has the proven ability to develop, lay out, and install turn-key fire sprinkler systems, on time and on budget. We offer the unique combination of managerial and technical expertise essential to complete any new or retrofit fire sprinkler design project.
DESIGN, PROJECT MANAGEMENT & EXPERIENCE SETS WESTERN STATES APART FROM COMPETITION:
Expert design team, offering:

Detailed specs and design concepts
Full install plans
Feasibility planning and budgeting

Advanced 3D CAD design capabilities
Extensive knowledge of fire protection requirements and codes
Seamless concept-to-final-product process
Effective planning, efficient pricing
One point of contact for your project to keep communication streamlined
DESIGN, INSTALL, SERVICE, AND INSPECT
We design your fire sprinkler system to function in any emergency. Upon installation, we will perform fire sprinkler testing to check functionality and train you on any management needs. To keep your system ready for activation, we have assembled a round-the-clock technician team to provide immediate service and repair. If you have an emergency, we provide 24-hour emergency service for your fire protection systems. We also offer fire sprinkler inspection programs as required by the latest national codes to our customers. Our inspection programs are designed to meet your insurance and industry needs be it weekly, monthly, quarterly, bi-annually or yearly inspections.
REPLACEMENT SERVICES
Like all building systems, there is the potential of wear and tear on fire sprinkler systems from the sprinkler heads, covers, gauges, to pipe fittings and more. With regularly scheduled inspections we can address these or provide assistance as needed. We can help you replace your sprinkler heads and covers to match your current design on any installed system. We have access to all major manufacturers' sprinkler heads.
FIRE SPRINKLER SYSTEMS COST ESTIMATES
Western States provides fire sprinkler systems for residential, commercial buildings and industrial facilities. We provide a custom quote for each sprinkler system application. Prices vary based upon application and complexity of system requirements. A dedicated team member will respond to your request for quote within 24 hours to get the project discussions started. Put the leaders in the industry behind your business – contact our team today.