We Service All Life Safety Alarms: Fire, Security & More!
PARTNERING WITH MAJOR MANUFACTURERS OF FIRE ALARM AND DETECTION SYSTEMS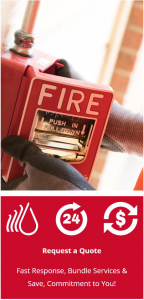 With our fully trained and experienced workforce, we have the capabilities to fulfill the complete system design and installation needs of our region for all sizes of fire alarm systems. Western States Fire Protection provides professional fire alarm and detection services, inspections, and repairs to many major product lines. We also work with building alarms, life safety alarms and security systems. Our fire alarm and detection professionals would be pleased to provide a complete certification and testing program for any of your facilities. With a focus that is mainly customer based, supplying inspections, monitoring, and service, we also provide complete alarm systems installation while working with exceptional brand names within the industry.
ALARM SYSTEMS FOR ALL INDUSTRIES
We work in all industries from residential to commercial and industrial. Our service area is the Western States of the U.S., but we have partnerships to service nationwide or internationally if needed. Not only are we your fire alarm systems experts, but we can provide sprinkler and suppression systems as well.
OUR ALARM SERVICES AND PRODUCT LINES INCLUDE:
Fire alarm systems installation
Fire alarm systems testing
Fire detection systems
Wireless monitoring
Alarm activation
Fire pump signals
Suppression system discharge
Tamper, supervisory/trouble
Security Systems
Access control
CCTV
Life safety alarms
Other alarm options
WE SPECIALIZE WITH PRODUCT LINES FROM:
Honeywell
Gamewell
FCI
Farenhyt
Silent Knight
System Sensor
TIME FOR A REPLACEMENT OR AN UPGRADE? GET A FREE, NO OBLIGATION QUOTE!
Whether you have a small conventional fire alarm system or a large intelligent type system, you may be due for an upgrade or even a replacement. Contact us to schedule an appointment with our NICET Certified and trained professionals. Keep your systems up and running properly in case of an emergency.
Need a new fire alarm system for a new home or facility? Western States provides free, no obligation quotes for general contractors, home owners, facility managers, architects. Within 24 hours of a request for quote submission, a dedicated team member will reach out to discuss your project. We with gather all the information we need to generate pricing and can schedule site visits if needed. Request a quote today!