Fire Protection Services Designed to Keep Your Entire System at the Ready
INSPECTIONS, MONITORING, CORROSION MANAGEMENT, SERVICE & REPAIR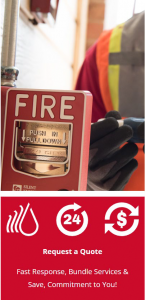 Western States Fire Protection is a professional team of fire protection engineers that can help ease your mind regarding the fire protection systems in your building. We are a part of your building operations team and work to ensure your systems are ready to operate at moment's notice. From design to installation, to inspection, and monitoring we are your 24/7, 365 day team player. Emergencies happen, but our fire protection services can help you be prepared. Protecting lives and property is our job.
HAVE PEACE OF MIND THAT YOUR SYSTEMS WILL PERFORM WHEN NEEDED
Taking care of your fire suppression system through inspections and service is every bit as essential as the original installation of your fire suppression system. Inspection, testing and repair are all critical to ensure that when protection is needed, your system will perform as designed.
OUR WORLD CLASS FIRE PROTECTION SERVICES INCLUDE:
FIRE PROTECTION SERVICE FOR ALL INDUSTRIES
Western States Fire Protection provides fire protection services across all industries. Our team has experience working with buildings in the commercial, residential, and industrial marketplaces. Whether it is the installation of a sprinkler system in a residential building, or the inspection of a suppression system in a manufacturing facility, WSFP has you covered. We can install, inspect, and service fire protection systems for even the most complex applications.
CONTACT WSFP FOR AN ESTIMATE
Make the call and make sure your systems are operating properly. Our team will provide an on-site, no-charge evaluation followed by a detailed estimate and action plan. And whether you need a few new sprinkler heads or a few thousand, or just regularly scheduled system inspections, you get total security in system functionality if needed. We will also provide monitoring.
With more than 40 office locations, WSFP has the team and resources to be your fire protection company. We are just a phone call away for new builds, retrofits, emergencies or regularly scheduled maintenance and inspection services. Let's get started today!