Enhance Fire Safety with Comprehensive Fire Protection Services
Ensure Optimal Performance: Inspections, Monitoring, Corrosion Management, Service & Repair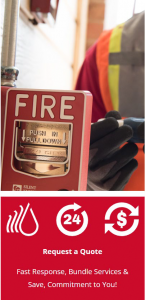 At Western States Fire Protection, our dedicated team of fire protection engineers specializes in providing top-notch fire protection services tailored to meet your needs. With a strong focus on fire safety, we seamlessly integrate into your building operations team, ensuring that your fire protection systems are always ready to respond in critical moments. From initial design and installation to regular inspections, monitoring, and timely repairs, we're your reliable 24/7 partner. With our comprehensive fire protection services, you can be confidently prepared for emergencies, safeguarding both lives and property.
Trust in Reliable Performance When It Matters Most
Maintaining the performance and reliability of your fire suppression system is as crucial as its initial installation. Thorough inspections, testing, and prompt repairs are critical to ensure that your system functions flawlessly when protection is required.
Our world class fire protection services include:
Fire Protection Service Across Industries
Western States Fire Protection caters to fire protection needs across diverse industries. With extensive experience serving commercial, residential, and industrial sectors, our team excels in projects ranging from installing residential sprinkler systems to inspecting complex suppression systems in manufacturing facilities. We possess the expertise to handle even the most intricate fire protection requirements efficiently.
Request Your Estimate from WSFP
Take the first step toward ensuring the optimal functionality of your fire protection systems. Contact us for a complimentary on-site evaluation, where our team will provide a detailed estimate and an action plan tailored to your needs. Whether you require a few sprinkler heads or a large-scale installation, regular inspections, or emergency services, you can trust us to prioritize system functionality and offer comprehensive monitoring.
With over 45 office locations, WSFP boasts an extensive team and abundant resources to serve as your trusted fire protection company. Whether it's new construction, retrofits, emergencies, or routine maintenance, we're just a phone call away. Let us partner with you to enhance your fire safety today!