Fire is not the only enemy. Corrosion Management: protecting your fire protection system itself.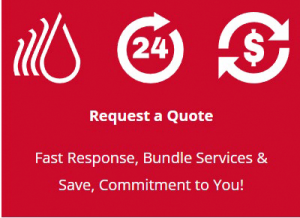 Wet or dry, old or new. NFPA-25 standards require the owner to have an assessment of the internal condition of piping systems every five years. If requested, this assessment allows us to pinpoint any damaging corrosion or obstructions that may damage your system's long-term performance. Several different assessment methods are available. Contact us to discuss the method that will best meet your needs and budget.
Corrosion is a concern for your fire sprinkler systems, because it can cause the pipes to leak or become clogged limiting the movement of water. While there are multiple forms of corrosion each associated with a different cause, corrosion can be caused by moisture build up, trapped pools of water or air pockets and higher temperatures around the pipes.
Water and material testing
Hydro and hydro-pneumatic flushing
Internal pipe inspections
Automatic venting
Chemical injection
Nitrogen generators
Piping replacement
If you're installing a new fire protection system, we can help you determine what's best for your particular situation—from selecting materials and corrosion monitoring devices to keeping a constant eye on the internal piping function.
Curious about corrosion monitoring & management? Get a No-Obligation Consultation Our team will get back to you within 24 hours unless you have an emergency. We service all installed systems for commercial, industrial or residential facilities. Western States Fire Protection also provides a national accounts representative to companies with multiple locations across the Western States of the U.S. or nationwide.