Meeting the Most Dangerous Demands in the World
PROTECTING LIVES AND PROPERTY IN MANUFACTURING & INDUSTRIAL FACILITIES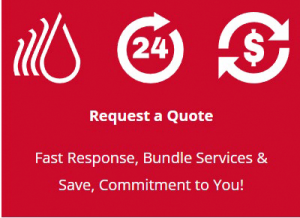 The industrial marketplace has some of the most dangerous applications in the world and the most expensive assets to replace. Whether it is manufacturing systems or high-rack storage, we have experience in the most hazardous places. We have been protecting lives and property in industrial environments since 1985. This has earned us a national reputation for industrial fire suppression expertise, and it means we offer proven protection no matter what sector of industry calls upon us. Based off of your application, we can design, install and service your industrial fire protection system – one building or a campus wide system.
EXAMPLES OF OUR INDUSTRIAL FIRE PROTECTION APPLICATIONS:
Onshore and offshore industrial fire protection
Gas plants, refineries, and chemical and petrochemical plants
Pulp and paper mills
Manufacturing facilities
Power plants and fuel storage facilities
Warehouse, medical, and other large-scale commercial properties
Any industry prone to rapid and raging fires
Based off the requirements of your facilities and the hazardous applications we are protecting we can design, install and service the following types of fire suppression systems:
Learn More about Special Hazards Fire Protection and our experience in the marketplace.
INSPECTIONS & SERVICE FOR INDUSTRIAL APPLICATIONS
In industrial applications, it is extremely important to have your fire protection systems regularly inspected and tested help be sure they will work when needed. Skipping an inspection could lead to system dysfunction and a loss of lives, property, and a disruption to your business. We can develop a testing and inspection schedule that does not disrupt your business and keeps your systems in the proper condition. Our team provides repairs and 24-hour emergency service for your fire systems.
We provide well-planned, technically advanced industrial fire suppression systems – provided on time and on budget – offering optimum protection for life and property. Our project management, design services and installation team are industry leaders.
Get a No-Obligation Consultation for your industrial fire protection needs.