Inspections for Fire Sprinklers, Suppression & Alarm Systems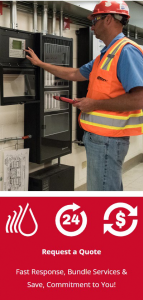 Fire system inspections are a must to keep up to date with industry and insurance codes. Western  States Fire Protection offers fire inspections to customers near our offices in over 40 cities in the United States. Schedule an inspection or call 303-792-0022 to be put in contact with a local office. With over 40 branch locations, we will always have someone nearby to serve you.
Fire suppression systems are designed to offer security; you do not want to see them at work, you just want to know that they will work.
HOW OFTEN SHOULD MY SYSTEM BE INSPECTED?
Inspections of your fire protection systems should be performed as required by NFPA standards, local code, and state code. These inspections should be performed by a reputable fire protection contractor. At Western States, we provide regularly scheduled fire protection inspections to address the operating condition of your system.
We perform inspections per current codes and your insurance provider requirements. Fire protection inspections can be:
Weekly
Monthly
Quarterly
Bi-annually
Annually
FIRE INSPECTION SERVICES FOR:
Fire sprinkler systems (wet and dry pipe, pre-action, deluge, and standpipe systems)
Antifreeze systems (including residential)
Backflow devices (including residential)
Emergency and exit lighting
Fire hydrants
Fire pumps
Kitchen hood fire extinguishing systems
Portable fire extinguishers (including hands-on training)
Pressure reducing valve testing
FIRE SYSTEM INSPECTIONS FOR ALL INDUSTRIES
Western States Fire Protection has over 40 locations across the US and a team of experienced fire protection professionals capable of servicing even the most complex fire protection systems. We provide fire protection inspections as well as service and repair to all marketplaces. We work with a wide variety of commercial, industrial, and residential applications.
INSPECTION & SERVICE CONTRACTS
When you are interested in working with WSFP for your fire protection inspections, we have 3- and 5-year inspection contracts available. Our inspection contracts will give you the peace of mind that your fire sprinkler, fire suppression and fire alarm systems will work when you need them for the next few years. WSFP provides fire protection inspections, testing and emergency service for all types of fire protection systems.
WE SERVICE CUSTOMERS NATIONWIDE
Contact us today about our fire protection and sprinkler inspection services. Have multiple locations across the U.S.? No problem, Western States Fire Protection offers the ability to have one point of contact for all inspection and fire protection service needs. Our national accounts team can ease your frustrations of multiple fire protection companies across various locations. Learn more about our national account services.