The Best Fire Protection Systems Come from the Most Precise 3D Fire Sprinkler System Design
BUILDING MODELS AND BIM TECHNOLOGY FIRE SUPPRESSION AND FIRE SPRINKLER SYSTEM DESIGN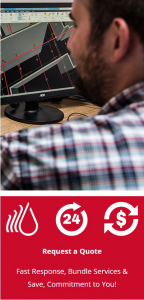 With one of the largest, multi-discipline, fire sprinkler design teams in the world—a team working with the most advanced, three-dimensional CAD technologies—we are able to completely immerse ourselves in your facility, even before it's built. The design of your fire sprinkler system is the first step in providing the best fire protection for your buildings, homes and other assets.
Western States Fire Protection Co. has created 3D fire protection drawings since 2000. We currently have more than 50 designers and two of the best fire protection software titles available. We use building information modeling on projects to not only ensure the design is created properly for the facility, but coordinates with other trades on the project. Building information modeling can not only save you time and money, but it is an accurate blueprint for our pipe fitting team. BIM helps you problem solve prior to getting started on the construction portion of your project.
Our 3D modeling capabilities allow us to see into, under, above and around the spaces where your sprinkler systems will go, providing the most precise fire sprinkler design and accurate installation directions possible. This not only increases your building's overall safety, it drastically reduces the amount of rework, change-order identification and trade coordination in the construction phase.
Within the fire protection industry and fire sprinkler system design, we lead the pack with our advanced software, 3D capabilities, and collision checking experience. We've completed thousands of fire suppression projects using 3D software and hundreds of projects where it's required for collision checking.
Several examples of larger fire sprinkler system design projects by WSFP coordinated in 3D
Denver Convention Center
Banner Desert Medical Center (Phoenix)
Casino Arizona Resort and Spa
Denver Courthouse and Jail
Ritz Carlton in Vail (Colorado)
Saint Anthony's Hospital (Colorado)
Denver News Agency (Colorado)
INDUSTRIES WE WORK WITH
Some of the industries that we can provide fire sprinkler design for include:
Western States Fire Protection has the capability to provide fire protection system design for a wide variety of applications, even the most complex buildings.
QUOTE A FIRE SPRINKLER DESIGN PROJECT
Get a No-Obligation Consultation on our fire sprinkler design capabilities. We provide response to all quotes within 24 hours. We generally start with a discussion of your project needs before putting a quote together. Our goal is to provide you with a thorough quote so expectations are established by both parties, saving time and money. And with over 40 locations across the Western half of the United States, we want to make Western States Fire Protection your company for all your fire protection needs!


Ensure your system is accurate for your building's needs with 3D building information modeling. Fire protection starts with the design and Western States Fire Protection delivers. Get a No-Obligation Consultation for your fire suppression or fire sprinkler system design project! We respond to all inquiries within 24 hours.