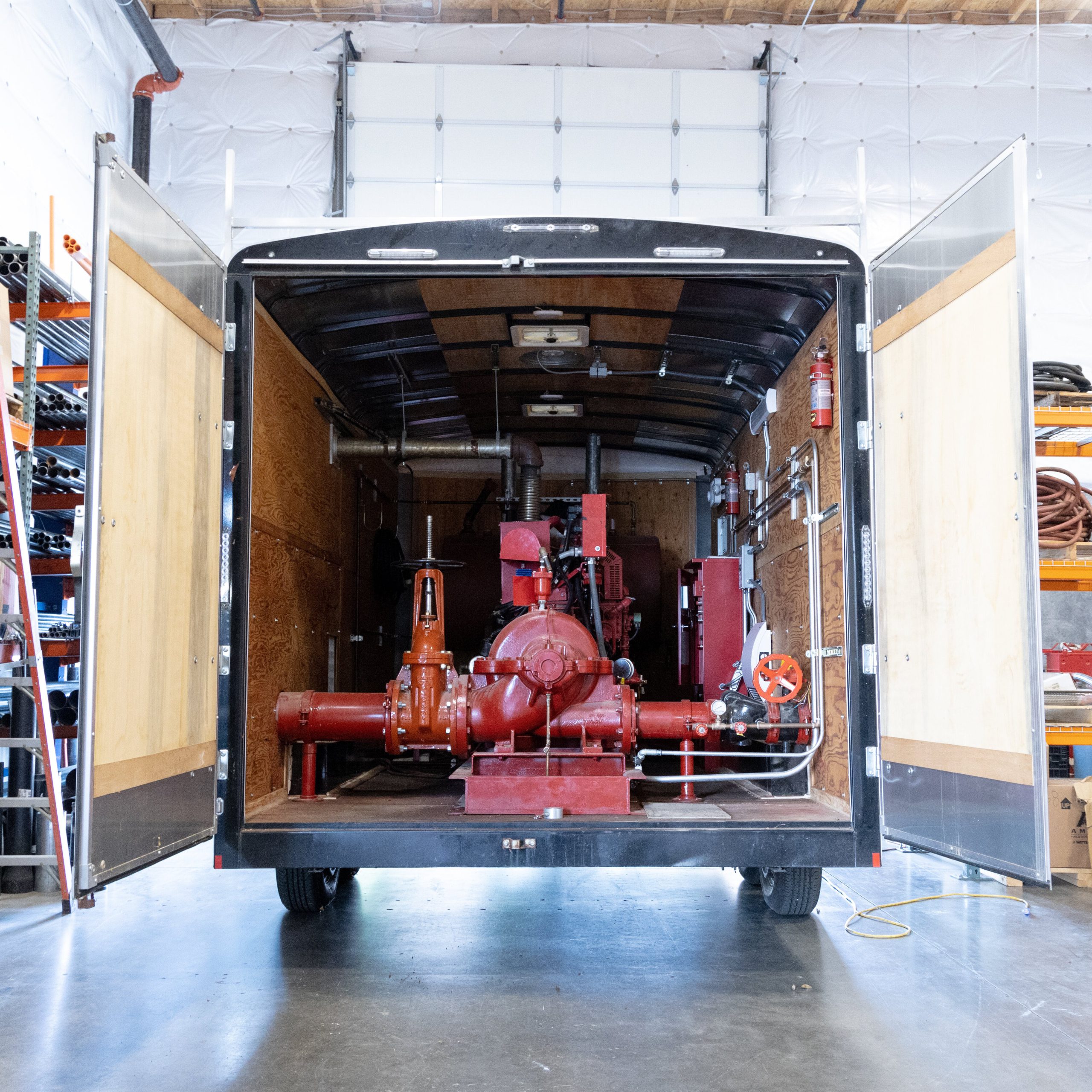 The Portland Fire Pump Project
On a cloudless and sunny fall afternoon, the Portland office hums with excitement. 9-year WSFP veteran, Cory Wallace, is preparing one of his two portable fire pumps to ship out to a new job site. These fire pumps, which Cory built to fit inside of a towable trailer, have been filling a much-needed purpose on the Northwest Coast, which to put it simply – is keeping businesses afloat. Cory recognized that there were supply and demand issues when it came to diesel engines and pumps that keep water sources, specifically water reserves for fire protection systems, pressurized and running. When asked about the functionality of the pump, Cory stated "it's a fully functioning fire pump room inside this mobile unit. They're great for repairs and long lead items on new construction too, which is a big thing right now."
When is a Fire Pump Needed?
When it comes to fire safety, facilities are not allowed to run without the proper protection in place. This puts facilities in a bind when their fire pumps fail or can delay a new facility from starting operations if they are unable to get one promptly. That's what sparked the inspiration for Cory and why Portland is trying to create a "plug and play" solution for emergency fire protection.
The design of the fire pump models a permanent pump and engine. Both were fit into a trailer with reinforced flooring and contain all UL-listed parts, meeting all code requirements. In addition to all the required specs, lighting and temperature controls were added to the trailer, making it more comfortable for long-term renters. The trailer possesses a hitch for easy towing and shipment which allows for WSFP Portland to "really go anywhere with it," according to Cory, and they have already seen major success across the country. Notably, these fire pumps have been in use more than they have been stored at the office, and have been shipped as far east as Arlington, Virginia. Other notable projects include the Microsoft facility in Washington, which has also played host to one of the pumps.
Portable and Accessible Anywhere
Part of the immense success that the Portland office has had renting out these fire pumps is due to a lack of accessibility in the market. Cory claims that to his knowledge "in the Northwest, this [fire pump] is the only one." Since there is such a scarcity, it allows WSFP to emerge as the leader in this sub-industry. As the Portland office continues to find renters in need of mission-critical solutions, they hope to expand their reach further, and hopefully, market demand will allow for more pumps in commission. Either way, this is an incredible first step to providing a much-needed service to our communities and an excellent display of leadership and forward-thinking by our Portland staff.
WSFP's mission is all about Protecting Lives and Property, so if you need a fire pump or have other fire protection/prevention needs then please contact us! We provide all design, service, repair, and inspections in-house, saving your company time and money. Click here, to receive a quote.